SKYWATCHSM Risk Management Platform
Replaces cybersecurity "alchemy" with visibility and control across your entire cybersecurity and compliance program.
Tracked and measured against the Seven Elements Model.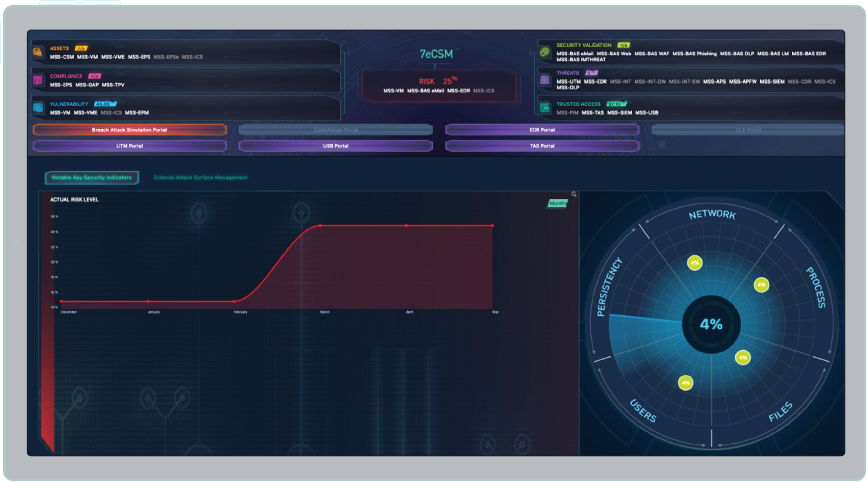 The SKYWATCH Platform
FROM BOARDROOM TO WAR ROOM

VISIBILITY - Over 40 dashboards

TRANSLATION - Executive and technical

REPORTING - Role and function based

COMPLIANCE - NIST Framework

STAFFED & SERVICED - 7/24/365

MANAGED -
• Vulnerability handling and remediation
• Threat mitigation process and mitigation
• Real-time Risk Management

SKYWATCH PRICING
SERVICE

CORE POWER

FORCE FIELD

DEEP
SENSE

MSS-BAS: SECURITY TESTING AND VALIDATION SERVICE

MSS-CSM: External Network Monitoring and Alerting Service

MSS-CSO: SKYWATCH PLATFORM

MSS-TAS: Multifactor Authentication Service

MSS-EDR: Extended Endpoint Detection and Response Service

MSS-VME: External Asset Discovery and Vulnerability Testing Service

MSS-BRAND: Brand Monitoring and takedown

MSS-UTM: Unified Threat Managed Service

MSS-DDOS: Managed Attack Protection SERVICE

MSS-DLP: Managed Data Leakage Monitoring and Protection

MSS-EPM: Patch Management SERVICE

MSS-SIEM: Managed Event Logging and Correlation Service

MSS-VM: External and Internal Vulnerability Management Service

Starting at $10K

/mo.

Starting at $20K

/mo.

Starting at $30K

/mo.

TECHNOLOGY PARTNERS
Tools by themselves do not reduce risks
| | |
| --- | --- |
| | Senior Director, Radware |