Identity and Access Management Services
Protect against privilege misuse, account takeover, and insider threats
79% of enterprises experienced an identity breach in the last two years. GLESEC combines industry-leading technology with expert managed and professional services to protect your organization against all identity and access-based threats while ensuring a smooth user experience. Get up and running quickly with rapid onboarding and managed integration with any system.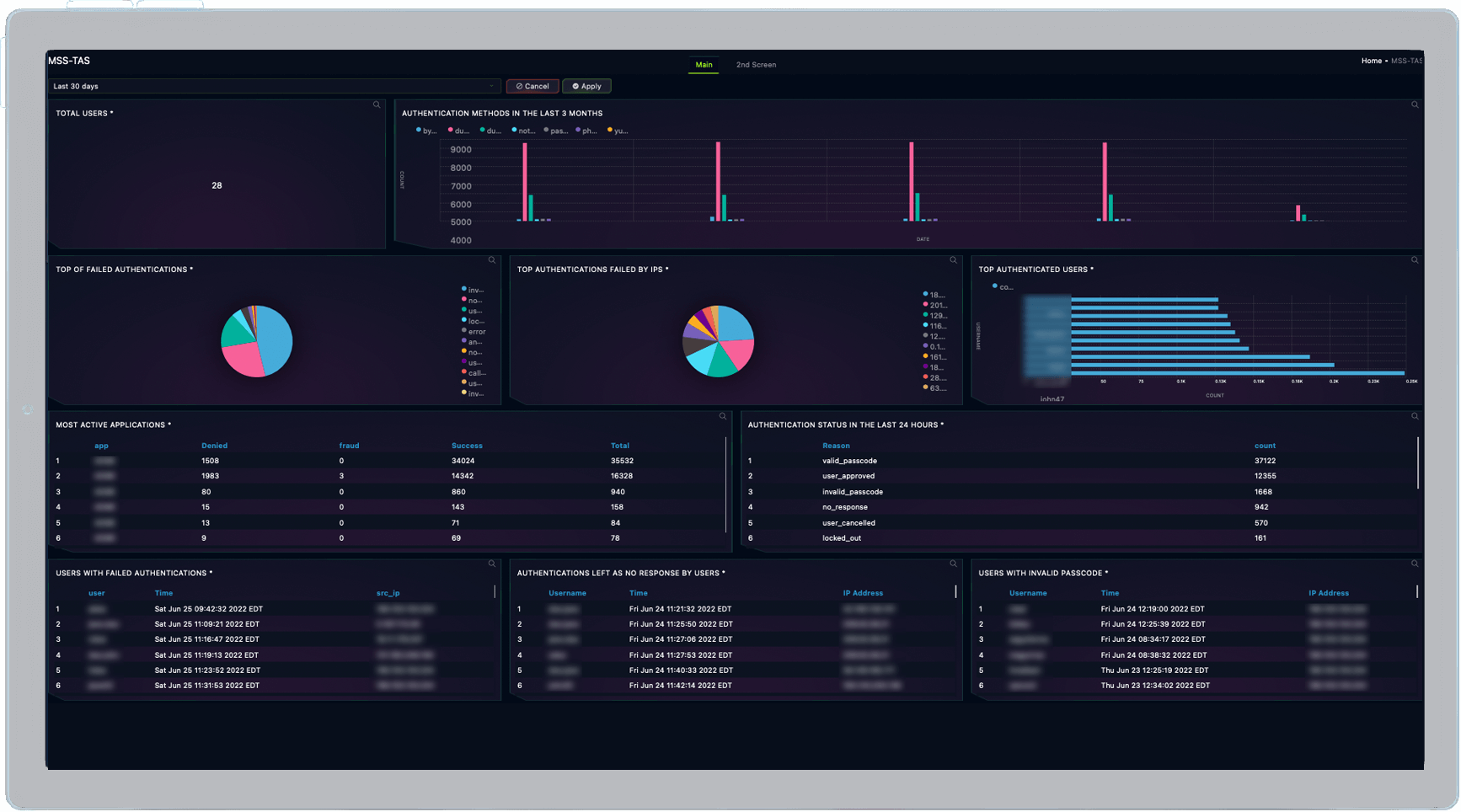 Click image for more detail.
The Fast and Simple Way to Reduce Cyber Risk

PROBLEM
Traditional identity and access management techniques are dangerous
Most passwords are easily guessed or brute forced. Even strong passwords are vulnerable to theft via social engineering attacks. As a result, abuse of legitimate credentials is present in a huge proportion of today's breaches.

SOLUTION
 Replace passwords with a fully managed identity and access service
GLESEC combines smooth multi-factor authentication (MFA) with the industry's leading privileged access management technology to provide fast, secure user authentication and tight access controls.

IMPACT
Make an attacker's task much harder while protecting user experience
Protect your organization against identity and access-based threats and limit a persistent attacker's ability to move laterally or escalate privileges—all while providing a seamless user experience.
FAQs
You ask, we answer!
Most MSSPs provide simple tools, sometimes with a basic management service. At GLESEC, we don't believe this is enough to protect your organization against the ever-growing range of cyber threats.
We provide an intelligent combination of technology, management, and professional services tailored to your specific needs and infrastructure. Our services deliver the most comprehensive protection available anywhere—at a much lower cost than building in-house.
Most organizations have too many tools but lack the time and skills to properly configure or manage them. This results in a false sense of security, while still consuming precious time and resources.
GLESEC combines leading technologies with comprehensive managed and professional services to address your real business needs: easier compliance, accurate risk management, and greater resilience to cyberattacks.
We can do almost everything on your behalf - including responding to security incidents  - based on pre-agreed rules of engagement. In a few cases, such as patching vulnerabilities in IT infrastructure, we provide full guidance and support to help your in-house team take the necessary steps.
For organizations with established incident response capabilities, we adapt our services to best support your existing personnel and workflows.
No. In most cases, it's more cost effective to outsource cybersecurity to a trusted provider. Remember—it's not just the cost of a tool to consider, it's the total cost of configuring, managing, and maintaining that tool over it's lifetime and replacing it next time you refresh your stack.
Here's an example. A customer of ours once bought a tool instead of opting for our manage service equivalent. While the tool seemed cheap initially, the customer needed three staff to manage, maintain, and utilize it, making the tool a lot more expensive than our managed service.
Effortless Identity
and Access Management
Find out how your organization can protect against identity and access threats while maintaining a strong user experience.